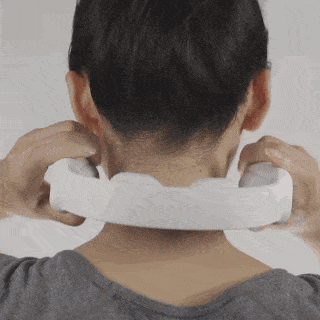 EASILY RELIEVE NECK PAIN AND STIFFNESS
Get a deep tissue pulse-like massage that relieves neck tension, stiffness and pain. Necktomy 4 point panel design feels incredible on your neck without any irritation - Better than a real human massage!

Join 10,000 Happy Customers worldwide and get 80$ OFF Today Only. Comes with a 100% Money Back Guarantee.


YOUR OWN MASSAGE THERAPIST

Use necktomy at work, at home, at a park to get that relaxing therapy and remove any soreness and stress in just 10 minutes.

It's like having your personal massager on your hand anywhere, anytime - 24/7.

Lightweight to carry around and the flexible design is a perfect fit for any size neck.



IMPROVE BLOOD CIRCULATION
Working long shifts, sitting at a desk or frequently using a smartphone causes neck pain, stiffness, headaches. Prolonged stiffness can cause muscle spasm, shortness of breath, migraines and long term health issues.

Use necktomy for just 10 minutes and get the incredible feeling of relief. It will completely remove pain and stiffness and increase blood circulation.
BUY TODAY AND SAVE $80

Relieve Pain, Stiffness and Stress
Improve Blood Circulation
Like Your Own Massage Therapist
Portable - Use Anytime, Anywhere
Relieve soreness easily in 10 mins
Universal Fit
30 Day Use in 1 Charge
Incredible feeling of relief without any irritation
100% Money Back Guarantee
ERGONOMIC 360° DESIGN
With our advanced design, the stainless steel panels fit perfectly any neck and size. No extra pressure on your neck
PORTABLE AND LIGHTWEIGHT
Weighing at only 160g, necktomy is the ultimate massager to carry and experience the amazing relief - anytime, anywhere.

EASY TO USE

Easily controlled with a remote to select any of the 3 massage and 15 intensity modes to your liking.

UNIVERSAL FIT & EASY TO USE
Depending on the massage mode selected, necktomy will move, pulse, vibrate, and rotate in all directions.

Truly an unbelievable feeling, honestly.

1 CHARGE = 30 DAY USE
A single full charge of necktomy can give you 15 relaxing minutes of daily use over 30 days!

necktomy has a built in rechargeable lithium battery and comes with a standard Micro USB connector.
OUR GUARANTEE - EASY REFUNDS
Guaranteed satisfaction or your money back! Simple as that. If for any reason you are unsatisfied, we refund back each purchase by our standard 30 day money back guarantee.

We have 24/7/365 email support. Please contact us at support@necktomy.co if you need assistance at anything!
FREE WORLDWIDE SHIPPING
We are proud to offer free worldwide delivery. But due to current world conditions please allow 4-8 weeks for delivery. We usually ship out within 24-48 hours and notify your order's tracking number so you can track it on every step of the way!
CLICK THE ADD TO CART BUTTON TO ORDER YOURS NOW! SUPPLIES ARE LIMITED